Fantasy 16x16 Asset Pack (PREFABS UPDATE!)
A downloadable asset pack
FANTASY: a 16x16 Asset Pack!
NEW UPDATE!:

Animals.
House (Outside).

(2) Brick fences.
(2) Stone fences.
(2) Wood fences.
(8) Wood wall variations.
Brick wall variation.
Stone wall variation.

New Door Type.
(6) Potion shelves.
Let's make the pack together! (NEW)

Comment what you want me to add to the pack in the next update! you can make how many suggestions as you want.
This is a re-upload of the old project there is no need to credit me for this!, also i would love to see what you made with this pack, and if you show me your project on TWITTER i could maybe help you by making some assets for your game!, this pack is just like the older one, although this one has some "additional stuff" into it, (this is not everything because there are some variations from some of the sprites, and because i'm going to be updating this pack), so, without further ado, this pack includes:
TILESETS:
Vegetation (1):

(3) Biomes.

(11) Tree Variants For Each Biome.
(6) Cave Entrances.
(2) Tree "Supports" (If You Want ToPut Trees On A City).

Vegetation (2) (Decorations):

(10) Sign Posts.
(3) Bushes.
(6) Mushrooms.
(2) Fences.
(5) Flowers.
(15) Grass Variants.
(6) Plants.
(1) Well.

Houses Tileset:

(3) Materials:

Bricks:
Wood:

(1) Roof.
(1) Wall.
(4) Sign Posts.

Stone:

(1) Roof.
(1) Wall.
(4) Sign Posts.

Decorations:

(1) Log Pile.
(1) Apple Container.
(2) Pillars.

Furniture And Others (Some can be used outside):

(40) Flower Pots.
(12) Table Variants.
(12) Bookshelves.
(12) Lamps.
(12) Lamp Supports (Which Can Also Be Use As Pillars)
(12) TVs.
(4) Antennas.
(18) Paintings.
(2) Beds.
(28) Windows.
(8) Wooden Doors.
(8) Stone Doors.
Wooden Stairs.
Stone Staris.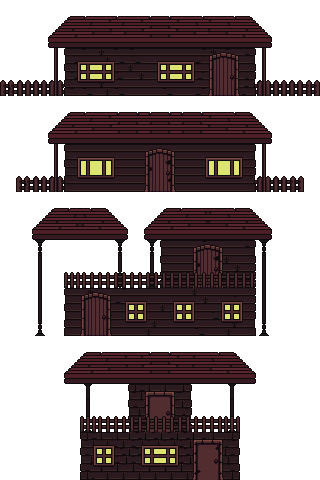 Terrain:

(3) Biomes (Each one has a stone and a dirt variation).

Town Terrain:




Stone Terrain.
Wood Terrain.

(Inside) Tiles:




Ground and walls (Stone And Wood).
















Placeholders And Markers:



Tutorials:
1-MAP MAKING!
A) INTERIORS: I make them using programs like Tiled or Aseprite, then i save it as a png and open it with photoshop, adding effects like glow and lights in a transparent layer, later, i save this layer as a png and use it as a overlay in the game.